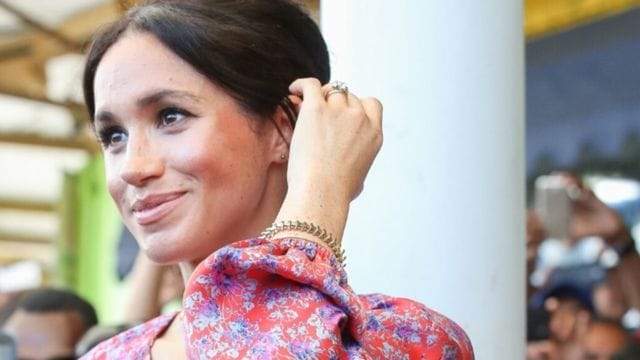 Meghan Markle's Dance Video Went Viral Amid Depression Claims, Splitting Twitter
As a result of their Netflix series, Prince Harry and Meghan Markle have garnered both admirers and haters of their relationship. During their conversation, Harry and Meghan brought up several significant decisions that the Sussex family has made, including their decision to separate from the royal family. The former actress also disclosed that, while she was carrying Archie, she struggled with feelings of depression and suicide ideation. Markle's mental health has suffered as a result of the drama involving her family as well as all of the negative attention.
In the midst of all of the high-profile pronouncements, there were some hilarious occurrences in the documentary series. In one segment, the Duke and Duchess of Sussex showed a clip of Meghan Markle dancing inanely outside their first residence in the United Kingdom, which was called Nottingham Cottage. The video received a variety of responses from royal watchers on social media, despite the fact that it was quite endearing.
Prince Harry showed his favorite video with Meghan Markle
Meghan Markle can be seen performing some peculiar dance moves in a video that has gone viral. She is dressed in a casual outfit consisting of pants, a blouse, and a half-jacket. The phrase "Oh my God" was what Prince Harry used to describe the video. My all-time favourite video is right here. In the video, many supporters considered Markle to be lovely. Some of the royal admirers, on the other hand, did not appear to be delighted, as they appeared to be wondering how a depressed person could be so cheerful and dumb at the same time.
During this time, the Duke and Duchess of Sussex were overheard expressing their dissatisfaction with their first house, which belonged to Harry and Meghan. The pair did not appear content as they complained about the limited living space and the low ceilings of the Nottingham Cottage. When asked to describe her first residence as a member of the royal family, Markle stated that most people believed they were in a palace. On the other hand, this did not occur, and instead, they were given a cottage within the palace.
The next thing she said was that the Duke had a habit of banging his head on the ceiling. The couple also related the story of how Oprah Winfrey had previously visited their home and been surprised by the amount of space it offered. Following their engagement in 2017, the former American actress moved into the home that had been allotted to Prince Harry in Nottingham in 2013. The cottage had been given to Harry in 2013. They relocated into Frogmore Castle in 2019, and it continues to serve as their primary residence in the United Kingdom.