Edens Zero Season 2 Episode 1 Release Date: Check It Out Here!
This post will inform readers about the release date of the second season of Edens Zero, as well as the premiere of the second season's first episode. We will also provide information regarding the episode's release times and where fans can watch the new episodes of the series.
Unfortunately, the second season of the anime will not be as easily accessible as the first season, so let's discuss this in greater detail later, but for now, let's take a look at what to expect from the first episode of Edens Zero Season 2.
Edens Zero Season 2 Episode 1
Fairy Tail creator Hiro Mashima created the science-fiction fantasy manga series, Edens Zero. On June 27, 2018, Kodansha began serializing the manga in Weekly Shonen Magazine.
The North American and English release is handled by Kodansha USA and is available on Comixology, Amazon Kindle, and Crunchyroll. Currently, 25 volumes are available in both Japanese and English. Additionally, the series is published in six other languages.
The premiere of the first season of the anime adaptation was on April 11, 2021. The series was produced by J.C. Staff, and Season 1 consisted of 25 episodes.
The first season of the show was directed by Yuji Suzuki. In February 2022, the second season was revealed. Toshinori Watanabe will succeed as a director.
Shiki has spent his entire life in the Granbell Kingdom, an abandoned amusement park, surrounded by machines. But one day, Rebecca and Happy the cat show up at the park's entrance gates.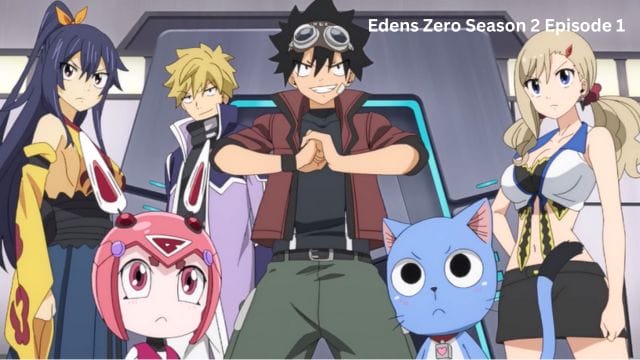 These newcomers are unaware that this is Granbell's first human contact in one hundred years. As Shiki bumbles his way toward making new friends, his former neighbours sense an opening for a robot uprising… And when his old homeland becomes too perilous, Shiki must board Rebecca and Happy's spaceship and flee into the vastness of space." according to the official synopsis from Kodansha.
You may also like:- 
Edens Zero Season 2 Episode 1 Release Date
The premiere date of Edens Zero Season 2 Episode 1 in the United States is April 1. The episode was released on April 2 at 12:55 a.m. JST in Japan.
There is currently no information regarding where the series will be streamable. There is a chance that the show will be available on Netflix. 
Read More – Riverdale Season 7 Episode 3: Release Date Countdown Begins!
Where to Watch?
As of this writing, only two countries can legally view the new episodes of Edens Zero Season 2: Japan, where they will premiere on local Japanese networks, and France, where they will be accessible via the Animation Digital Network streaming service.
Unlike the first season, Netflix has yet to announce whether or not Edens Zero Season 2 will be simulcast or when it will begin broadcasting on the platform.
Once we have a better idea of when the new episodes of Edens Zero Season 2 will be released, we will update this section or create a new article on the subject.