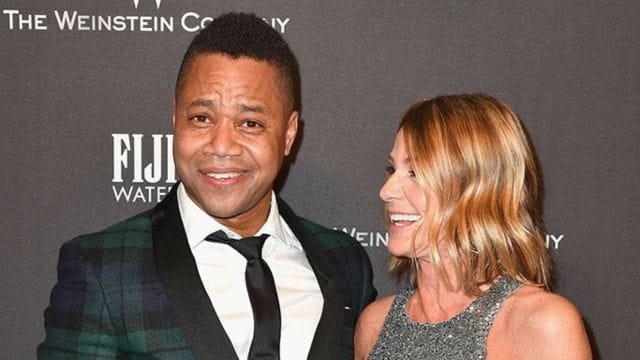 Cuba Gooding Jr: Career Highlights, Controversies, and Legal Accusations
Born January 2, 1968, Cuba Gooding Jr. is a famous American actor. He has won many honors over his career. Gooding became famous for his 1991 portrayal of Tre Styles in "Boyz n the Hood." This launched his acting career, which included "A Few Good Men," "The Tuskegee Airmen," "Outbreak," and "Jerry Maguire," for which he earned an Academy Award for Best Supporting Actor.
In "Men of Honor" and Michael Bay's "Pearl Harbor," he played Carl Brashear and Doris Miller, respectively. Gooding's other notable films include "As Good as It Gets," "What Dreams May Come," "Rat Race," "The Fighting Temptations," "American Gangster," "Gifted Hands" as Ben Carson, "Lee Daniels' The Butler," and "Selma" as civil rights attorney Fred Gray. In "Home on the Range," he voiced Buck the Horse.
Gooding also excelled on television. In "The People v. O. J. Simpson: American Crime Story," he was nominated for an Emmy for his depiction of Simpson. "Roanoke" was his sixth season of FX's "American Horror Story." Cuba Gooding Jr. is a respected and successful actor with a wide range of roles.
Cuba Gooding Jr: What Happened?
In the past few years, Cuba Gooding Jr. has had major legal problems and accusations. In 2020, a woman who did not give her name said that he had attacked her in a New York City hotel room in 2013. But just before picking a jury for a federal civil trial about this claim, Gooding and the woman came to an agreement. The terms of the deal are still a secret.
In the lawsuit, the woman asked for $6 million in damages. She told a disturbing story about the alleged event and said that Gooding had done things without her permission. This payment comes after other claims were made about Gooding. He has been charged by many women with inappropriate touching, groping, and other things. Last year, he admitted that he had kissed a woman against her will. Even though he didn't go to jail or get a criminal record, he had to go to six months of therapy for alcohol and behavior.
As part of the plea deal, charges against three other accusers were also dropped. Three people who said Gooding hurt them between 2009 and 2019 were supposed to testify in the legal case, which has now been settled. The fact that the trial has been canceled means that Gooding and the woman who accused him of the attack have worked out their differences on their own.
Cuba Gooding Jr's Accusation?
Cuba Gooding Jr. was accused of grabbing and forcibly kissing women. After three women accused him, he was charged in 2019. The instances were reported at the Moxy NYC Times Square hotel's rooftop bar, an Italian restaurant on East 58th Street, and a Chelsea nightclub.
#MeToo, which included Gooding Jr.'s claims, sought to expose wrongdoing and harassment in different areas, including the entertainment business. Since Gooding Jr. was a famous actor who won an Academy Award for "Jerry Maguire" in 1997, his claims were a major breakthrough in this movement.
After the charges, several women accused Gooding Jr. of misconduct. These primarily non-Manhattan women recounted years-long encounters. The criminal case did not consider their testimonies.
Also Read:- The Most Recent Carly Rae Jepsen Album is Flawless Pop.
Prosecutors wanted authorization to submit 19 women's statements to demonstrate a pattern of behavior in Gooding Jr.'s criminal prosecution. A judge initially allowed two women to testify, but later overruled this decision. In April, Gooding Jr. pled guilty to harassment. He received time served and continued alcohol and behavior modification treatment under the agreement. Gooding Jr. avoided jail time in Manhattan, but two civil suits relating to the claims remain.
Cuba Gooding Jr.'s Career: What Happened?
Cuba Gooding Jr.'s career has been a rollercoaster of accomplishments and controversies. "Boyz n the Hood" (1991) was his first major role, and "Jerry Maguire" (1996) garnered him an Academy Award for Best Supporting Actor. After this, Gooding Jr.'s career struggled. He became less visible in mainstream cinema due to lesser projects and direct-to-DVD pictures.
To reinvigorate his career, Gooding Jr. tried different mediums. He played plays and voiced animated films. He returned to television in "The People v. O.J. Simpson: American Crime Story," for which he won an Emmy. Despite these triumphs, controversy plagued his career. Gooding Jr. faced 30 misconduct complaints and three official charges.
Also Read:- Where is Ray Rice Now? Is He Joined the NFL's Campaign Against Domestic Violence?
Gooding Jr.'s controversies have hurt his career. While he works on new projects like "Skeletons in the Closet," the allegations and court fights have tarnished his reputation. Gooding Jr.'s career shows how success may lead to controversies that eclipse prior achievements.