Blackpink's New Album, Rebel Yell, is Liberating and Defiant. 'pink Venom' Collaborators Talk About How They Made It.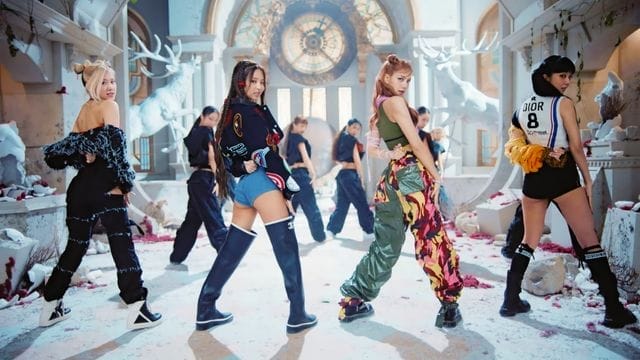 As the undisputed rulers of the Korean pop scene, Blackpink has a lot riding on their upcoming sophomore album. The female group could be excused for doing things on the safe side, but on their new album "Pink Venom," which is now available, they defy expectations by addressing topical issues, adding a particular F-word to their vocabulary, and scattering slow jams throughout the album. An eclectic group of partners, including Jisoo, Jennie, Rosé, and Lisa, are currently pulling back the curtain on the creative process in order to assist Jisoo, Jennie, Rosé, and Lisa with the pivot.
Bekuh Boom, also known as Rebecca Rose Johnson, is a singer and composer who has been a member of Blackpink since the band's inception. Literally. She recalled, "I met them back when they were still in the training program." "The same Korean teacher taught both of our classes."
In the year 2012, Boom was living in Seoul in the hopes of signing her own record deal when she was introduced to Blackpink by YG Entertainment. Within a short period of time, she had collaborated on the writing of their debut singles, "Whistle" and "Boombayah." It is only right that Boom should return for "Pink Venom," which signifies both a musical and metaphorical rebirth, given that Boom was an original contributor on the track. The duo sounds more ferocious and more unapologetic than they ever had before on "Typa Girl," which features them puffing themselves up over blistering hip-hop/pop production. They sing, "I bring money to the table, not your dinner," which translates to "I bring you money." "Both my physical appearance and my financial situation improved."
Boom has stated regarding the song that it is intended to "empower women." "When I hear it, it makes me feel like the shit, and I want other women to hear it so that they can feel the same way." [Case in point] She wrote the first demo at the Black Label studio, which is owned by Teddy Park, the band's primary producer, but she had no idea whether or not it would even be released. The resident of Orange County says, "I thought Lisa might use it for her next solo single, but I'm really glad that it's going to be on the album." "I thought Lisa might use it for her next solo single."
Even though Boom is considered a member of the family at this point, she does not take this status for granted and says that it is a blessing that she is always asked back. She feels a personal connection with Blackpink and appreciates the creative process that is involved in K-pop. When asked about the differences in working conditions between South Korea and the United States, Boom remarked that "there is a lot more respect for the writers and producers to get their opportunity to shine" in South Korea. If a person was not responsible for something, that person's name will not appear on the document.
Brian Lee, who is more known in the United States as a regular contributor to songs by Post Malone (he played the bass, and slayed it, at Post's all-Nirvana, at-home concert during the epidemic), is also a member of Blackpink and has worked on some of their songs. In addition to that, he has become something of a mainstay in their camp, and the song "Tally," which he co-wrote for the album "Pink Venom," is unlike anything else that the band has ever published before. The quartet starts off their performance with the words, "I say fuck it when I feel it, 'cause no one's keeping tally I do what I want with who I like," which is played over a hazy guitar arrangement. "I ain't going to disguise it, when you're talking all that shite I'll be getting mine," the other person said. "I ain't going to conceal it."
It wasn't too long ago that the idea of a K-pop group recording a song about sexual liberation would have been inconceivable. Given the nature of the discussion, the fact that two of Lee's co-authors are female may not come as much of a surprise. After hearing the tape in London, Australian songwriter Nat Dunn played it for him, and Lee immediately saw its potential. He recalls saying to them at the time that the melody of the pre-chorus needed to be something that "pulled on your heartstrings." "But Nat was the one who had the baby."
Dunn admits, "I was just infatuated with it." [Citation needed] The topic was initially brought up during a session with the production team Salt Wives by the song's co-writer, Soraya LaPread, who also contributed to the writing of the song. Dunn continues by saying that "judgement is something that a lot of women come across." The lyrics are quite powerful, especially coming from them. The artists behind Salt Wives, David Phelan and Alex Oriet, are of the same opinion. "There is no other act that we can think of who better exemplifies its [defiant] message than Blackpink," said the team.
On the other hand, the track wasn't necessarily created with the K-pop idols in mind when it was written. Lee clarifies, "We weren't actually aiming for Blackpink." [Case in point] The fact that it is included on their record came as a complete shock to us. Despite the fact that other musicians expressed interest, Dunn was confident that Blackpink was the best option. She asserts that "the song is the star in any environment," and I agree with her. "The decision is always based on what is best for the song," said the producer. And in this particular instance, Blackpink was the most suitable group to perform this song.
Eventually, Lee performed "Tally" for Park, who was essentially in charge of everything pertaining to "Pink Venom," and the producer chose it specifically for the band. Lee identifies him as the person who first started the K-pop genre. "Teddy is responsible for turning K-pop into regular pop. He made it universal."
In addition, Park played an important role in deciding to include the highlight track "Hard to Love" on the album. The disco-influenced hymn finds the four members of Blackpink exposing some of their more sensitive selves for what is arguably the band's most vulnerable song to date.
Jisoo, Jennie, Rosé, and Lisa yell out the lyrics "When it feels too nice, I just fuck it up" on the chorus of the song. "So don't fall too hard, because I'm difficult to love," she warned. After taking into mind the aspirational element that inspires the music and image of K-pop, this sentiment is quite remarkable.