Station 19 Season 6 Release Date: When and Where Can You Watch Season 6?
Station 19 is an American action-drama TV show that started on ABC on March 22, 2018. It was created by Stacy McKee. It is Grey's Anatomy's second spin-off. The show takes place in Seattle and is about the men and women who work at Seattle Fire Station 19.
It features Jaina Lee Ortiz, Jason George, Grey Damon, Barrett Doss, Alberto Frezza, Jay Hayden, Okieriete Onaodowan, Danielle Savre, Miguel Sandoval, Boris Kodjoe, Stefania Spampinato, and Carlos Miranda. The show is run by executive producers McKee, Shonda Rhimes, Betsy Beers, and Paris Barclay.
What is the Release Date of Station 19 Season 6?
According to Whattowatch, the first episode of Season 6 of Station 19 will come out on October 6, 2022. This is about a week later than what happened last season. At 8 p.m. ET on Thursday, the firefighter drama starts, and then at 9 p.m., Grey's Anatomy Season 19 starts.
Then, at 10 p.m., Alaska Daily, a brand-new show, takes over Big Sky's time slot. ABC says that the new series, which was written by Tom McCarthy, stars Hilary Swank as a reporter from New York who moves to Anchorage after getting in trouble.
What Could Be the Plot of Station 19 Season 6?
The next season will almost certainly pick up where Season 5 left off. A lot has happened, so here's a quick rundown (spoiler alert!) to help you catch up. First, Andy Herrera finds a girl named Holly who might have been a victim like her and asks her to testify against Jeremy for her.
The district attorney had said before that Andy didn't have a good chance, but he eventually got an anonymous tip about what Jeremy had done. When the district attorney talked to Holly, the charges were dropped. In the Season 5 finale, Carina and Maya finally get a chance to talk to the immigration office.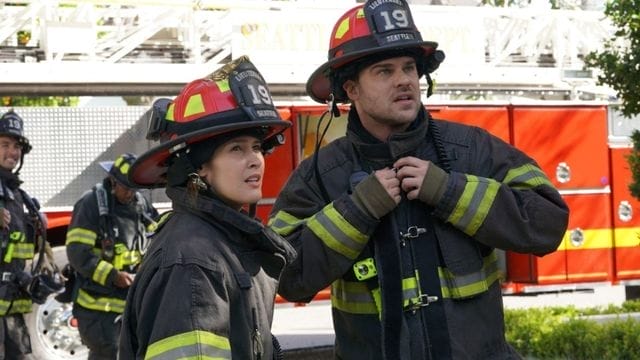 When Maya starts ranting about how she lost her job as captain and blames it on homophobia and sexism, people start to get upset. Even though she had a breakdown at the wrong time, which could have hurt her chances of getting a green card, immigration officer Philip Dang gives her one anyway.
In the Season 5 finale, just as Station 19 is finally coming together and Andy's charges are dropped, more trouble starts to happen. Maya is still upset about losing her job. Andy confronts Natasha Ross and Captain Robert Sullivan and tells them that she wants her job back or she will tell the police that they were sleeping together.
Related Topics:
What Will Be the Cast of Season 6 of Station 19?
Pat Healy, Josh Randall, and Merle Dandridge are all set to come back to Station 19, and each of their characters has a deep history. Merle Dandridge will be back in the role of Chief Natasha Ross. Even though she has only a military background, her coworkers think her job is very simple. On the other hand, her personal life can have a big effect on how well she does her job.
Josh Randall still plays the part of Captain Sean Beckett. He has been a firefighter for a long time and drinks too much. Pat Healy plays former Chief Michael Dixon, who comes back. He has different ideas than most of the rest of the squad. Because he is also running for mayor, there will be problems in the firehouse.
Other people in the cast are:
Where Can You Watch  Station 19 Season 6?
ABC will show the new show when it comes out. Every Thursday night, there are new episodes, so make sure you are free on Thursdays. But ABC has you covered if you want to watch Station 19 at your own pace.
Visit ABC.com the day after the episode airs if you want to find out more. If you want to watch it on the go, you can download the episode from the ABC app and watch it on your phone or tablet.
Read More:
Trailer for Season 6 of Station 19
The official one-minute trailer came out on September 23, 2022, with the tagline "Season 6 of Station 19 starts on Thursday, October 6 on ABC." The series follows a group of firefighters from Station 19 of the Seattle Fire Department, from the captain to the newest recruit, both at work and at home. The trailer gives you an idea of what the show is all about. Below is the official trailer:
Frequently Asked Questions
Where Can I Find Station 19 Season 6?
Station 19 Season 6 can be watched online when it's ready on ABC, fuboTV, or Hulu Plus. Also, viewers can rent or buy past seasons on Vudu, iTunes, Google Play, and Amazon Instant Video and watch them online.
How Does Station 19 Rate on Imdb?
"Station 19" gets a 6.8/10 from IMDB.
Where is the Movie About Station 19 Made?
The outside scenes of Station 19 were filmed at the real Station 20, which is at 2800 15th Avenue West (Queen Anne, Seattle). In a studio in Los Angeles, a copy of this station's interior was made.