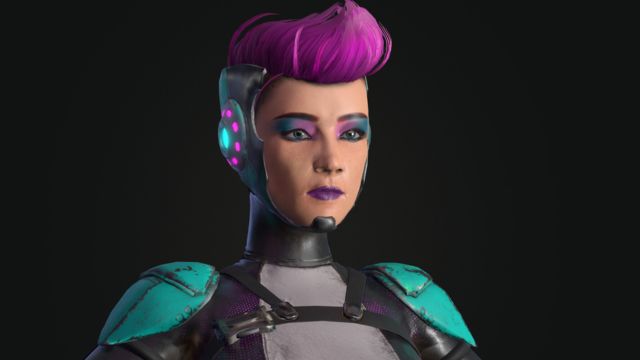 How to Improve Your 3D Art Skills with J Hill's Two Essential Tips
J Hill, a professional 3D character modeler, gives you two important tips on how to improve as a 3D artist and explains why they are so important. You might be surprised (and inspired) by some of the reasons.
Since 2008, J has worked in the entertainment business. He works as a Lead Character Artist for the independent game company Turtle Rock Studios in California.
When he's not making digital characters for video games like Apex Legends and Back 4 Blood, he runs a popular YouTube channel where he helps artists explore their interests in digital art, like 3D character art, ZBrush sculpting, 3D modeling, game art, and rendering.
Why You Should Practice Your 3D Art
As a professional artist, you'll have to meet goals set by clients and your own company. This is one of the reasons why J thinks it's important to work on your skills outside of work. His belief is that if you do something ten times, the tenth time will be a little faster than the first. And you'll find little things you can do to work better and faster.
I'm always trying to perpetuate this idea of, if we can just get comfortable sitting in a chair and doing art daily for a few hours, it will be like taking a small step forward every day. You will get better over time.
"And it's almost impossible, if not impossible, to get worse at something if you do it every day. You're not going to go backward and start drawing stick figures or something! If you sit there and use Maya every day, you won't forget how to use it."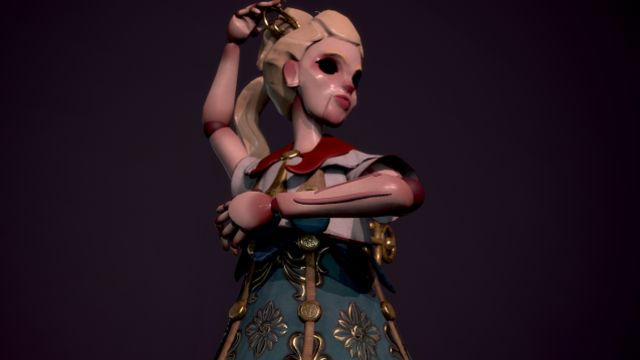 No matter how big or small it is, progress is something you can see and focus on. It is a goal you can reach. If you use a platform like ArtStation to showcase your work, look at the first piece you shared, compare it to your most recent artwork, and see if you can spot any improvements.
J keeps his old YouTube movies up because it's important to see how far you've come. He wants aspiring artists to be able to see how he has improved his skills over time and to realize that a lot of his ability has come from time and practice.
"I wish more senior artists did this. I think it could be inspiring for a new artist to see a more experienced artist's older work and think, "Hey, this guy made art ten or fifteen years ago, and he's still doing it, and he's gotten a little better at it." Makes sense, don't you think?
If you want to hone your skills as a character modeler like J and are looking for practice, he recommends starting by sculpting a single limb instead of the entire body in a 3D modeling application like ZBrush.
"Take a ball or a cube and make some feet or ears, then some hands, and finally some faces. Most likely in that order, since they get harder as you go. But just those body parts are very natural, and you're learning anatomy, convex shapes, and shapes that overlap. You can use them to tell a story. Even though they're only one small part, you can still add character to them. You can choose their age and how they look."
J says if you practice something enough times, your muscle memory will start to assist you in your work, and it will help you to focus more on your art rather than thinking about the software you're using to create it.
Why Personal Projects Are Important
Taking on personal projects is a great way to practice your 3D art and keep your skills sharp. J thinks they also help you balance what you do at work and give you something that is just yours and over which you have more control. If you want to try a technique but your present job doesn't need you to, why not try it at home?
"I think it's really important to be able to do things you can control and feel good about. For example, if I'm working on a sci-fi or realistic game, I'll do something different in my free time to keep things feeling new and interesting.
"Usually, at work, you're given directions and have to follow a brief, but at home, you can just do whatever you want. And sometimes that leads to work that catches the attention of other people, who then get in touch with you."
It's also important to know that even if you work at a studio if you don't work on your own projects, you might not have anything new to add to your portfolio or showreel.
J warns that if you work at a company and the project you're working on gets canceled, you probably can't put any of your work for that project in your portfolio. You probably already signed an NDA agreeing to this.
"You never know what's going to get out of a studio, what you're allowed to share and what you're not. I've seen this happen to a lot of students and workers who were trying to break into the business. When you've put a lot of work into something, it's hard to take a loss.
J enjoys working on personal projects because he can make 3D models that focus more on art and less on technical details like wireframes, poly-count, etc.
"I just do it quickly and sloppily. It doesn't matter, though, because it's not in a show. Why put so many rules on your job that slow you down and take so much time? You don't have to do it every time as long as you can show you can also do production-quality work. It's more important that your art looks interesting, can be shared, and makes people feel good. This will help you stand out from the crowd.
J realizes that personal work can also play a role in whether or not you get the job you applied for. By showing off your personal work, you show companies that you love what you do, that it's more than just your job, and that you are always trying to get better and grow.
"When I would do interviews, and if we ever were on the fence about an applicant, we'd ask, 'Do they do personal work?' And we could literally hire one person over another just based on that. It shows that they have their own thoughts and are doing things."
Putting together a 3D figure takes time; it's not a quick process. If you take on too big of a personal job, it will take longer to see how far you've come, which will make you more likely to give up. To keep you going on longer projects, J suggests breaking them up into smaller, quicker wins.
"I always tell people to do most of their work in three days or less. Studies, heads, sculptures, textures, and anything else that looks interesting and finished. Don't just pick things that will take two months to finish. Pick some things that will take less time. So, you can work up to the bigger two-month jobs or combine smaller tasks with them.
Want to Get Better at 3D Art and Have an Expert Help You With Your Own Projects?
The 3D modeling classes at CG Spectrum make sure you get a lot of practice while you learn skills that will help you get hired in games and movies. You'll learn how to build assets from scratch, like 3D character models and environments, using industry-standard tools like Maya, ZBrush, and Substance Painter.
You will be guided every step of the way by a professional in the field. You will also get personalized feedback on your work to help you improve as a 3D modeler.