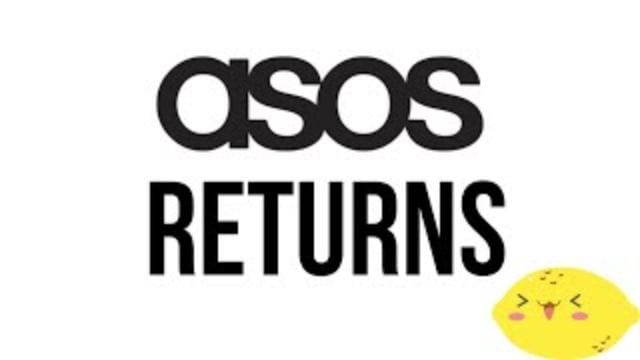 Asos Return Policy: How Many "Try It Out Days" in the Return Policy?
ASOS has been around since 2000, but I just learned about them lately because my teenage daughters like the clothes they sell.
But if you shop online, especially for clothes and clothing, you will have to return something. So, I looked into ASOS's return policy recently so I could help my daughter with her return.
I have to say that their policy was a little hard to understand at first, so I thought it would be a good idea to write a blog post about it since I'm sure many other shoppers had questions as well. Here's everything you need to know about their U.S. return policy.
How Many "Try It Out Days" in the Asos Return Policy?
28 days!
ASOS gives you exactly 28 days from the date the item is delivered to decide if you want to keep it.
If you send something back within 28 days, you'll get a full return back to the way you paid for it.
If you send something back between days 29 and 45, you'll get an ASOS gift credit instead.
You're out of luck after 45 days.
Are There Any Exceptions to This Policy?
Yes, you should be aware that there are a few cases…
Items that are marked "Final Sale" cannot be returned, refunded, or exchanged.
You can't return underwear if the cleanliness seal is broken or the tags have been taken off.
Swimwear: Follow the same rules as underwear.
Face and body products can't be returned if they've been used or if the seal has been broken.
Pierced Jewelry: If the seal has been broken, you can't return earrings, nose rings, or belly rings.
Masks: If you break the seal on the package, you can't send it back.
Can I Take the Tags Off and Wear It Outside?
No.
Well, I guess you could wear it outside, but they ask you NOT to take the tags off and "wear it."
If you try to return something that looks old or isn't in good enough shape to sell, they won't give you your money back.
I've even been told that if you try to do this, they will often mail the thing back to you and make you pay for the shipping.
What If I Take the Tags Off and Don't Like the Quality?
I asked ASOS this question in particular because I couldn't find the answer anywhere on their website.
If you're returning something within the time limit, the tags MUST be included in the return, whether they're still connected or not.
If you're returning the thing BEYOND the time limit because it's broken, it's fine if the tags are missing.
Make sure to choose "DEFECTIVE" as the reason for your return.
Also, it's important to know that ASOS won't send you a new item if it's broken, but they will give you a full return after looking at the broken item.
What If My Clothes Fall Apart After 45 Days?
Most likely, you won't be out of luck.
ASOS told me, "If your clothes are broken after 45 days, you can send them back to us so we can look at them, and we'll let you know by email about your refund and the results of our investigation."
Seems like it's worth a try, especially if the problem is pretty clear.
How Do I Start an Online Return?
Sign in to your account and go to "Order History" to see what you've bought.
Then, under "My Account," you'll see the choice to return the item. Click on it, and ASOS will walk you through the rest.
The last step is to print out a free return card and bring it to the USPS or ask for it to be picked up.
Can I Return Outlet Clothing Too?
Yes.
You can return an item as long as it doesn't say "Final Sale."
Most things in the Outlet are NOT a final sale, and you can ship and return them for free.
How Many Days Until I Can Expect My Money Back?
14 days.
They try to get your money back to you within 14 days of receiving it at their return center.
How Do I Make a Return if I Ordered From Asos Marketplace?
The exchange and return rules of each ASOS Marketplace seller are different.
Because of this, you'll have to get in touch with each seller to find out what their return policy is.