This is Going to Hurt Shruti: What Happens to Shruti in This is Going to Hurt?
This Is Going to Hurt, Adam Kay's comedy-drama television series, is based on his book of the same name and is co-produced worldwide. Ben Whishaw portrays a doctor in the National Health Service who rises through the ranks of the institution. The seven-part series premiered on BBC One and BBC iPlayer on February 8, 2022. It will debut on AMC at an unspecified date in the United States.
The series focuses on Adam Kay, a young doctor in Obstetrics and Gynecology. Adam must navigate his personal relationships, notably with his parents, to whom he has not come out, as well as the turmoil and strain of hospital life, from suddenly aiding in bloody deliveries to coping with unexpected patient deaths. Meanwhile, the vicious cycle of work is eroding his capacity to manage it all.
Adam Kay's story as an NHS doctor came to a predictably horrible but joyous conclusion in episode seven. This Is Going To Hurt's brutal glimpse into the world of 12-hour shifts demonstrates that the sacrifices made by every member of the OB/GYN ward deserve more than a clap of applause and some banging of pots and pans at your home door. Those who have already binge-watched all seven episodes will know that the comedy-drama concludes on a very heartbreaking note – but if you're feeling bold and want to know how the show ends, we're here to assist.
This is Going to Hurt Ending Explained: Being a Doctor is Hell of Stressful
After dealing with a shift from hell on her alone, the doctor Shruti Acharya's decision to take her own life will come as a shocking revelation to viewers in episode six. It had been building up for many months, but Shruti's tension eventually got to be too much for her on the day that she finished her tests. The stress stemmed from her never-ending ward shifts as well as the increasing strain of her academics.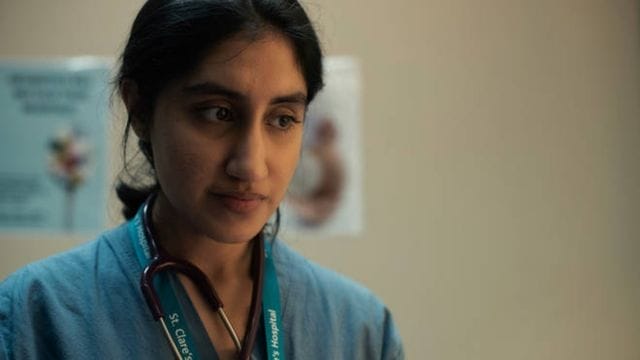 In a cruel gut punch, her coworkers are forced to carry on as if nothing has happened by the beginning of episode seven, which is set two months after her death. This includes doing things like juggling their schedules in order to make time for her monument outside the front entrance of the hospital or running away when their beepers go off. Shruti's educational supervisor, Vicky Houghton, is as callous and insensitive as she has always been. She led the homage by pronouncing Shruti's last name incorrectly, making jokes as if she were doing stand-up comedy, and laughing off the tree that was planted in her honour.
Read more: Infinite Stratos Season 3 Release Date: Who is the Strongest in Infinite Stratos?
Is Adam Going to Be Able to Keep His Job?
Adam appears in court during his trial accompanied by his snide attorney. He behaves in a disrespectful manner and screams about Shruti… Is he, on the other hand, taking Lockhart's recommendations into consideration? Everything will be brought to light. In any event, Adam is able to maintain his position at the company.
Adam had been battling with his own emotions and was crying at the table when he met Harry, who he had met because he needed someone to speak to. In order to avoid attending the wedding of Greg and Emma alone himself, he asks Harry to serve as a temporary plus-one for him and accompany him there.
It is time for Misty to get back to the medical facility. Erika shows in with a present for Adam, which is a mug that has the words "World's Best Doctor" engraved on it. She also has one for Shruti, but it is useless and just serves to make the situation worse. Before Adam can elucidate more, he is whisked away to deal with an unexpected circumstance. Although there was a moment of peril, Adam was able to successfully treat the patient.
However, he does catch Al crying in the locker area and tries to comfort him. In light of the intense questioning that Adam previously gave to Shruti, Adam modifies his harsh critiques and opts for a more soft approach. In addition to that, he gives Al the afternoon to think things over. He takes the nametag off of Shruti's locker and inserts it in his wallet at the same time. It is meant to be a symbolic gesture, one to honour her memory while also making an effort to gain wisdom from her premature passing.
Read more: Quandale Dingle: Where Did the Name Dingle Come From?
What Happens to Shruti in This is Going to Hurt?
A touching sequence is included in the BBC drama written and directed by Kay, in which a tree is planted in remembrance of the character Shruti, a doctor who took her own life.
Who Was Shruti Based on This is Going to Hurt?
In episode four, when Shruti meets Ms. Houghton (played by Ashley McGuire), she finally sees a fragment of her own world mirrored back to her for the first time. This is a relationship that Adam doesn't fully comprehend. On the BBC show "This Is Going to Hurt," Ambika Mod plays the role of Shruti.