IPL 2023: Kohli and Gambhir in a Verbal Spat!
Virat Kohli, the former captain of Royal Challengers Bangalore (RCB) and India, and Gautam Gambhir, the coach of Lucknow Super Giants (LSG), almost got into a fight after a game between their teams on Monday.
Videos have been posted on social media that show Kohli and Gambhir talking to each other, and LSG players stop Gambhir from running at Kohli when he gets angry about something he said or did. Gambhir used to play with Kohli for India and Delhi Ranji Trophy.
Kohli and Gambhir finally got into a heated argument, but other players and coaches were able to break them up before things got out of hand.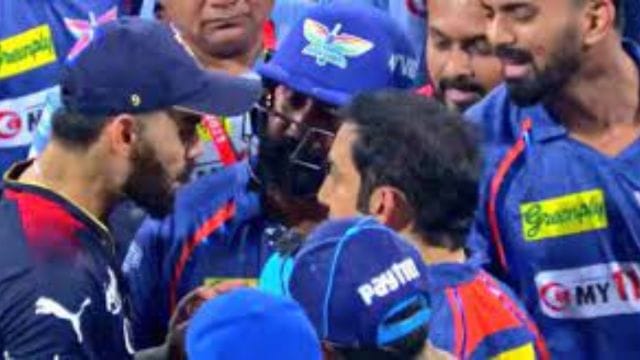 After Royal Challengers Bangalore (RCB) beat Lucknow Super Giants by 18 runs, everything started to change. RCB successfully protected a low score of 127, which helped them move up in the points table.
Then, Gambhir and Kohli were seen yelling at each other, and players from both teams had to step in to stop them. At first, Gambhir stopped an LSG player from talking to Kohli by pulling him away.
Read More:
CSK vs PBKS, IPL 2023, Highlights: Punjab Kings down Chennai Super Kings in last-ball thriller
IPL 2023 Schedule, Time Table, Venue and More!
New Rules and Home Games to Have Impact on IPL 2023
Kohli and Gambhir have fought before, both on and off the field. A few years ago, when Gambhir was captain of the Kolkata Knight Riders and Kohli was captain of the RCB, the two players got into a fight on the field.
Then they got back together, and last year, pictures of them hugging each other went popular on social media. But, three weeks ago, images of Gambhir cheering loudly when Kohli got out in their first match of the season were posted on social media. It was said that the two players talked to each other after the game.