What Is an ETF Account?
An exchange-traded fund (ETF) is a type of pooled investment security that operates much like a mutual fund. Typically, ETFs will track a particular index, sector, commodity, or another asset, but unlike mutual funds, ETFs can be purchased or sold on a stock exchange the same way that a regular stock can.
How to Use the ETF Total Return Calculator?
To begin, you need to enter at least an ETF's ticker. As you type, it will auto-complete active exchange-traded fund tickers.
Basic Exchange Traded Fund Details and Inputs.

ETF Ticker: Enter a valid, active ETF ticker from IEX
Starting Amount ($): In dollars, an initial investment amount

Starting Date: Enter when an investment was first made °
Ending Date: Enter when an investment was sold °
Read More:- Mutual Funds vs Stock Investment – Which is Better Option?
What Was the First Exchange-Traded Fund (ETF)?
The SPDR S&P 500 ETF (SPY), introduced by State Street Global Advisors on Jan. 22, 1993, is widely regarded as the first exchange-traded fund (ETF). There were, however, some forerunners to the SPY, including instruments known as Index Participation Units that were issued on the Toronto Stock Exchange (TSX) in 1990 and followed the Toronto 35 Index.
What Does an ETF Cost?
ETF administrative and operating costs are frequently funded by investors. The "expense ratio" refers to these costs, which typically account for a small part of the entire investment. As the ETF industry has developed, expense ratios have generally reduced, making ETFs one of the most cost-effective investment vehicles. Nonetheless, expenditure ratios can vary widely based on the type of ETF and its investment strategy.
Advanced Dividend and Periodic Investment Options.

Show Events: If you check this option, we'll show you all of the dividend information we have for the ETF in that timeframe. Periodic investment information will also be supplied (optionally).
Periodic Investments: If you want to replicate periodic investments into an exchange-traded fund, check the box.
"Monthly": Select the timeframe for ETF investments if you're mimicking periodic investments.
Regular Amount: The amount invested in the simulation at each time period.
Read More:- QQQ Stock Trading Risks and Rewards
Interpreting ETF Model Results.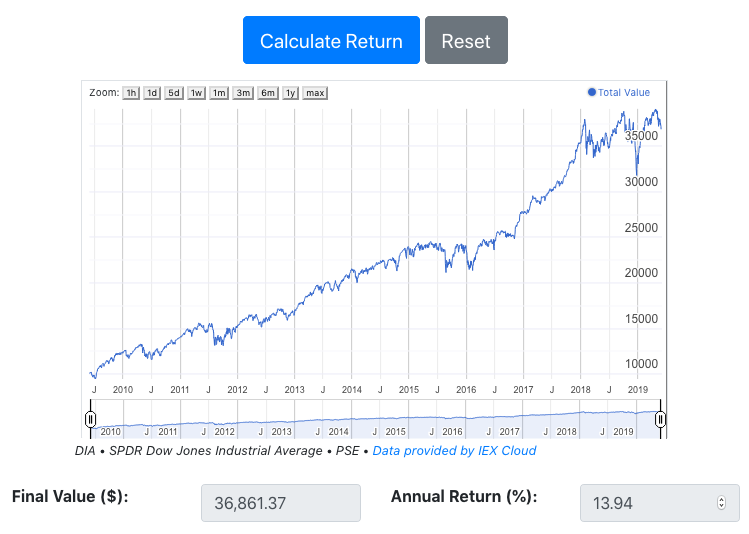 Final Value ($): The value of the ETF investment on the 'Ending Date'. Again, note we may change that date depending on the database refresh limit.
Annual Return: Our estimate of the annualized percentage return by the investment, including any periodic investments. The final value will show the actual ending balance if you want to compute a total return instead. (See our compound annual growth calculator)
Graph: The value of the ETF investment over time. If you're on desktop, hover over a point to see the investment value snapshot on any day in your scenario.
ETFs vs. Mutual Funds vs. Stocks
In a world with constantly changing broker fees and rules, comparing features for ETFs, mutual funds, and stocks may be difficult. The majority of stocks, ETFs, and mutual funds are available for purchase and sale without a commission. Funds and ETFs vary from stocks since most of them include management costs, which have been moving lower for many years. 1 ETFs have lower average costs than mutual funds in general. 5 Here's a list of more similarities and distinctions to consider.
|  Exchange-Traded Funds | Mutual Funds | Stocks |
| --- | --- | --- |
| Exchange-traded funds (ETFs) are a type of index funds that track a basket of securities. | Mutual funds are pooled investments into bonds, securities, and other instruments that provide returns. | Stocks are securities that provide returns based on performance. |
| ETF prices can trade at a premium or a loss to the net asset value (NAV) of the fund. | Mutual fund prices trade at the net asset value of the overall fund. | Stock returns are based on their actual performance in the markets. |
| ETFs are traded in the markets during regular hours just like stocks are. | Mutual funds can be redeemed only at the end of a trading day. | Stocks are traded during regular market hours. |
| Some ETFs can be purchased commission-free and are cheaper than mutual funds because they do not charge marketing fees. | Some mutual funds do not charge load fees, but most are more expensive than ETFs because they charge administrative and marketing fees. | Stocks can be purchased commission-free on some platforms and generally do not have charges associated with them after purchase. |
Open a Live Account in Under 5 Minutes
Open a trading account in under 5 minutes and join 900,000 others globally trading 300+ CFD products over assets like forex, indices, and gold with an award-winning broker. Trade forex from 0.0 spreads on Vantage's RAW account with up to 1:500 leverage. You'll also enjoy access to free education and trading tools with 24/5 phone support.
Read More:- How to open SBI Bank Account Online without PAN Card
Evaluating ETF
The ETF space has grown at a tremendous pace in recent years, reaching $4 trillion in invested assets by 2019.6 The dramatic increase in options available to ETF investors has complicated the process of evaluating which funds may be best for you. Below are a few considerations you may wish to keep in mind when comparing ETFs.
How Do the Periodic Etf Investments Work?
The tool is backed by a database with OHLC prices on exchange-traded funds, and a separate entry for dividends. For your choice of dates, we invest at the open price – for the initial lump sum and any dividends – then calculate the portfolio value at the daily close.
They are also added at daily open prices if you choose to model periodic investments. To make the logic simple, we invest(the next legal market day) 1, 7, 30, or 365 days after the previous investment respective to your time frame choice. If dividends and periodic investments would have occurred on the same day, those calculations are independent.
Modeling Dollar Cost Averaging
Using the tool and periodic investments, you can also model dollar-cost averaging. Dollar-cost averaging is our preferred normal style of investing, where you invest regularly.
For periodic windfalls you receive, we prefer investing the lump sum all at once.
Adjust Your ETF Returns for Total Returns
When compared to ordinary stocks and mutual funds, ETFs are relatively young. We still see results stated out of context, especially for dividend-paying ETFs. When purchasing VTI or DIA, don't just consider the price return on your investment. Make careful to account for any extra shares you acquire with your dividends.
We hope you enjoyed the ETF Calculator. Use it in good health, and tell your friends! Also, try the closed-end fund return calculator.