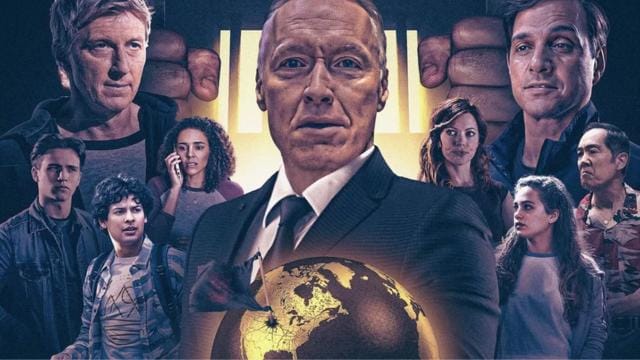 Cobra Kai Season 5 Review: Check It Out Here!
Cobra Kai defied the expectations of many fans when it debuted on YouTube Red in 2018. The series reintroduced Daniel LaRusso and Johnny Lawrence to Karate Kid aficionados, while also introducing a slew of new characters to adore. Certainly, the series exploits nostalgia, but it also aims to (and succeeds at being its own thing).
Since moving to Netflix in 2020, Cobra Kai has become one of the most popular and acclaimed series on the streaming service.
From the return of fan-favourite characters to the adolescent angst and, of course, the still golden will-they-won't-they bromance between Daniel and Johnny, Hayden Schlossberg, Jon Hurwitz, and Josh Heald has not missed a beat.'
Cobra Kai John Kreese (Martin Kove) is arrested after being framed by Terry Silver (Thomas Ian Griffith), Daniel (Ralph Macchio) turns to his old rival Chozen (Yuji Okumoto) to help bring down Cobra Kai and Miguel (Xolo Mariduea) leaves for Mexico in search of his real father.
The first few episodes follow multiple storylines, such as Miguel's search for his father, Johnny (William Zabka) and Robby's (Tanner Buchanan) search for Miguel, Terry Silver's massive expansion of Cobra Kai, Chozen moving in with the LaRusso family, and Sam (Mary Mouser) still reeling from her loss in the All-Valley tournament and trying to rediscover herself.
Throughout all ten episodes, there are numerous shocking revelations, betrayals, alliances, the return of old favourites, and, of course, plenty of karate fights.
As Cobra Kai has progressed, it has always maintained its appeal and ability to balance its ever-expanding cast of characters, and Season 5 is no exception. The road journey between Johnny and Robby features some of the season's funniest and most touching moments.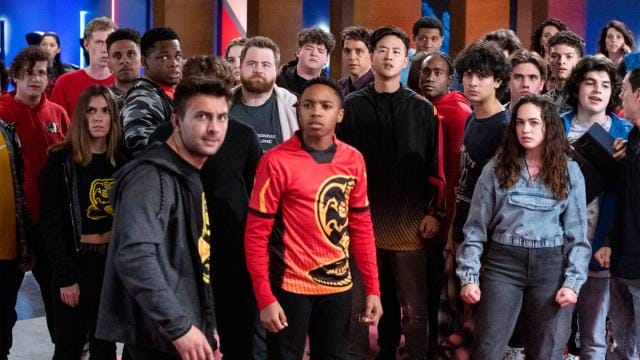 Tory (Peyton List) is better than ever, with List delivering her finest performance to date as a character who has become significantly more complex since her introduction in Season 2.
Mariduea continues to shine as Miguel, whose journey to locate his father takes him to unexpected and increasingly mature locations.
Season 5 shifts its focus from the adolescent drama of previous seasons to that of the adults, and the change is for the better.
Especially in later episodes, Macchio and Zabka's chemistry is at an all-time peak, and their relationship remains one of the best on television.
Chozen's role is another highlight, with Yuji Okumoto balancing great comedic timing with being one of the most talented Karate masters in the series, making him a delight to watch in every scene he's in.
Terry Silver continues to be a threatening presence, if not even more so, with Griffith portraying a character you love to despise who potentially poses a greater threat than Kreese himself to near perfection.
We learn a great deal more about Kreese's true mental state and whether he is capable of redemption in the future or destined to remain the ruthless sensei we have come to know.
This season allows Kove to reveal a more vulnerable side of his villainous character, and his voyage is not only a turning point for his character but also for the entire series.
Season 5 also features some of the most thrilling combat scenes in the history of the series, with some resulting in significant consequences.
The series never loses the vitality that made us fall in love with it in the first place, despite the fact that certain sequences can be a bit excessive and silly.
The combat choreography is more extreme and intense than ever before, and the stakes have never been greater.
Read More:
Superman and Lois Season 3 Episode 5: A Look into Episode 5!
Is The Masked Singer Season 9 Episode 10 Release Date Confirmed?
Farming Life in Another World Season 2: Spoiler and Release Date Update in 2023!
The Cobra Kai team is more aware than ever of how absurd how can be and sometimes embraces it, but it never detracts from the more serious moments.
The passion the showrunners have for these characters is as strong as ever, and it is evident that everything has been meticulously planned.
As soon as everyone is reunited, the pace of the show accelerates to the point where viewers will be unable to tear their eyes away from the screen.
Certain character arcs continue to feel repetitive; despite Mouser's impressive performance as Sam, Sam's arc this season feels a bit too similar to what we've seen before.
Additionally, the relationship between Daniel and Amanda (Courtney Henggeler) is reminiscent of previous seasons, as Amanda once again queries and frets over Daniel's karate obsession. It wouldn't harm if the series decided to take these characters in previously hinted-at but unexplored new directions.